| | |
| --- | --- |
| | The Praktina System |
Praktina FX model DS
The First Generation
Camera Name: Praktina FX
Model Name: DS
Different Versions: 2
Production Date: c. 1953
Estimated Production: c. 1,000
Praktina FX-DS
At the Trade Fair in Leipzig, in September 1953, the VEB Kamera-Werke Niedersedlitz released the PRAKTINA FX with its definitive aspect and with small changes compared with the last prototype. New are the eye-level finder with a different shape, the "KW Germany" logo marked on the top of the body cover and the eye-level optical finder with a different edge.
The camera has the mechanism to close automatically the diaphragm of the semi-automatic lenses to the pre-selected aperture, two standard F and X coaxial contacts for bulb and electronic flash units and the name "Praktina FX" stamped on the front. In some cameras of this model the mechanism to control the lens diaphragm is missing.

The Praktina FX was the first 35mm SLR in the world to introduce:
• a mechanism, placed inside the camera body, to control the shutting of the diaphragm to the selected aperture of the semi-automatic lenses
• a single-axis non-rotating dial with shutter speed settings from 1" to 1/1000"
• the capability to use an Electric Motor or a Spring Motor
• the capability to use a 17m Magazine Back for up to 450 pictures

The Praktina sports a set of innovative features that place it remarkably ahead of its time. It took seven years to see a new SLR camera, the Nikon F, with the same professional features.
It is possible to value the high technical specifications reached by this camera comparing the Praktina with the 35mm SLR produced up to 1953: Asahiflex I, Asahiflex Ia, Kine Exakta, Kine Exakta II, Exakta Varex, Exakta Varex VX, Exa, Zenith, Alpa Reflex, Alpa Prisma Reflex, Alpa Alnea Mod. 4, 5 and 7, Rectaflex 1000, Rectaflex Junior, Rectaflex 1300, Praktiflex, Praktica, Praktica FX, Contax S, Contax D, Pentacon, Wrayflex I and Contaflex.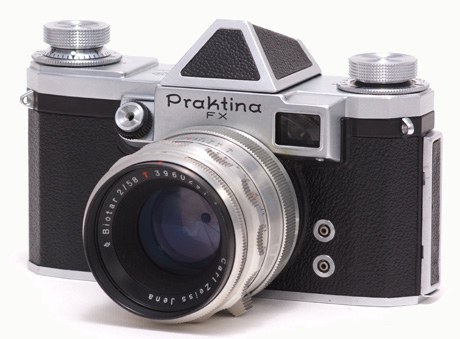 Praktina FX-DS with semi-automatic Biotar 2/58
Model's Identification

Name of the camera
Praktina FX

No. of Flash Connections
Two

Camera Back Hooking
Half-size
Version's Identification

Version 1
Diaphragm's Control
for semi-auto lenses

Version 2
Without
Diaphragm's Control
The Accessories
At the Leipziger Trade Fair, in September 1953, the Kamera-Werke showed the prototypes of some accessories including a 17m magazine back, a stereoscopic viewfinder, a bellows focusing attachment with ratio 1:1, a spring motor and an electric motor.
In a brochure of 1953 were listed the following lenses: Tessar 4.5/40, Biotar 1.5/75, Triotar 4/135, Sonnar 4/300, Fernobjectiv 8/500 and Telemegor 5.5/180.
The Praktina System at Leipzig Trade Fair, in September 1953
Source: "Die Fotografie", October 1953
| | |
| --- | --- |
| Spring Motor | Bellows Focusing Attachment |
| 6x High-magnification Finder | Electric Motor with 17m Magazine Back |
| Electronic Flash | Stereo Viewfinder |
Specifications and Technical Data
• Camera type: 35mm single-lens reflex camera.
• Picture size: 24x36 mm on standard 135 cartridges.
• Lens mount: Praktina breech-lock lens, bayonet mount.
• Lens diaphragm control: for semi-automatic lenses (SB); none in version 2.
• Viewfinder system: interchangeable eye-level viewfinder or waist-level viewfinder; lock lever of viewfinder on the bottom-camera with marks "A" and "Z" (open and locked); interchangeable focusing screen, matte or matte with split-image rangefinder; eye-level optical finder incorporated in the camera body.
• Shutter: horizontal-travel focal-plane shutter with cloth curtains.
• Shutter speed dial: single-axis non-rotating dial, placed at the base of the winding knob.
• Shutter speed settings: B, 1, 2, 5, 10, 25, 50, 75, 100, 200, 500, 1000.
• Shutter release: Shutter release button, with standard thread for cable release, positioned on the front of the body, sloping with an angle of 60°.
• Self-timer: with a 10-second delay; the lever is positioned below the shutter release.
• Flash connection: standard F (bottom) and X (top) coaxial contacts for bulb and electronic flash units.
• Film winding and shutter cocking: knob.
• Frame counter dial: placed at the base of the winding knob counts in ascending values; manual reset.
• Film rewinding: knob.
• Film reminder dial: placed at the base of the rewinding knob, sets 10-23/10 DIN film speed or two different types of color film.
• Mirror: returns with the film advance.
• Motor coupling: bottom-camera coupling for motors and lever trigger.
• Tripod thread: 3/8".
• Camera back: hinged and removable, interchangeable with 17m Magazine Back.
• Serial number: stamped inside the camera body, in the film cartridge chamber.
• Dimensions and weight: (without lens and finder) Height 85 mm, Length 147 mm, Depth 59 mm, Weight c. 570 g.
Copyright © 2000-2015 Alberto Taccheo. All rights reserved.
Last Revision: June 2015