THE PRAKTINA SYSTEM
CAMERAS
Pentacon Super
The project of Praktina N will work out a new camera and a new system. The VEB PENTACON DRESDEN presented the prototype of the Pentacon Super at the Leipzig trade fair in September 1966 and the definitive version at the Leipzig trade fair in September 1968.
The Pentacon Super provides the professional and scientific worker with a superb camera which represents the culmination of 40 years of experience in the design of 35mm single-lens reflex cameras. This camera flew in the space with the Soyuz 4 in 1969.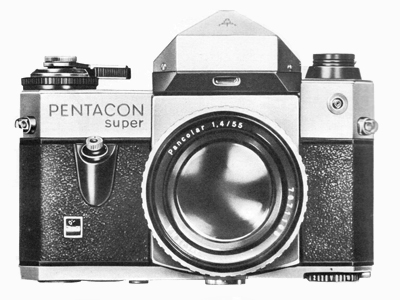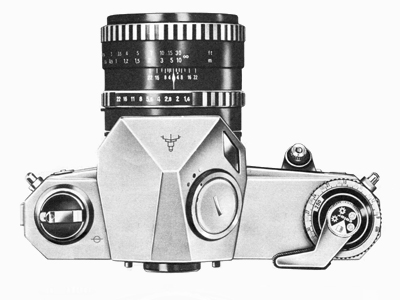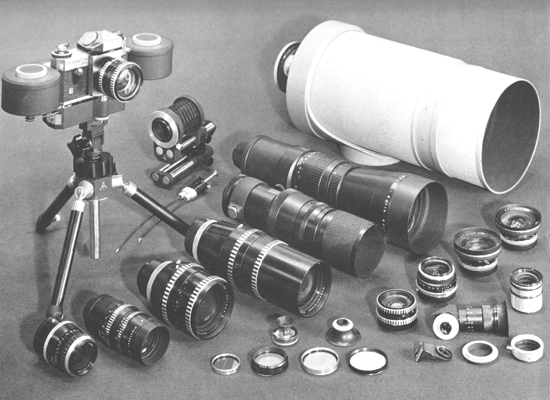 Manufacturer Name
Kombinat VEB PENTACON DRESDEN
Presentation of the prototype
Leipzig trade fair, September 1966
Presentation
Leipzig trade fair, September 1968
Production
October 1968 to January 1972
Number produced
less than 5,000
Standard lens
Pancolar 1.4/55mm and Pancolar 1.8/50mm

Specifications
• Vertical running metal blade focal plane shutter giving speeds from 10 sec. to 1/2000 sec. and B.
• Synchronized for electronic flash up to 1/125 sec. also F and FP setting.
• Through-the-lens metering by means of a beam splitter and double sized CdS cell incorporated in detachable prism finder; reading taken at full aperture or on the stop-down principle.
• Standard lenses with M42 mount: Zeiss Pancolar 55mm f1.4 or 50mm 1.8 with fully automatic diaphragm.
• A range of interchangeable lenses from Zeiss and Meyer with focal lengths from 20mm to 1000mm; (20mm, 35mm, 135mm with fully automatic diaphragm and two-pin operation; 180mm and 300mm with semi-automatic diaphragm).
• Interchangeable viewing screens from Zeiss and waist level finder.
• The meter needle, F stops number, shutter speed and readiness for action indicator are all clearly visible in the viewfinder.
• 17 meters (450 exposures) magazine back with cassette and electric motor drive (two frames per sec.) with an electromagnetic release for remote camera control.

Last update January 2022
Copyright © 2000-2022 Alberto Taccheo. All rights reserved.